Hello, Thank You For Taking The Time To Reach Out To Me.
Group coaching Is a powerful way to create an environment that allows you to build, challenge, and grow your own health, fitness & wellness in a fun, inspiring and enjoyable way.
These sessions are powerful and allow you to connect and chat with other like-minded people like yourself. If you are feeling nervous, unsure or any of these kind of feelings about joining, fear not all my clients felt the exact same before coming.
'The minute you step in the door, you feel so comfortable and relaxed. The session was great and so were the people, I really enjoyed it'
 – Feedback from a client on their first group session.
Upon my own journey personally and professionally
I've realized a lot of things…
1
We already know all the physical things to do to feel healthy, fit and live to our best, but why aren't we living or feeling that way?
2
To have true energy, fitness and health requires a lot more than just what food to eat, type of training program, coffee or not etc.
3
Strengthening & Conditioning the mind to be as fit and healthy as the body, is just as, if not more important.
4
Physical training sometimes can be all serious and a real rush mentality given to it. Groups are a powerful way to motivate, challenge and have fun to allow you to perform and feel at your best.
I believe from coaching over 1000 people that to truly change how you feel, your energy, health, fitness and how you live starts with an all rounded integrated approach to health & fitness. I am delighted to be acknowledged as one of the leading specialists in Health & Fitness for the life changing results that I have helped our clients achieve. Which you can see below:
Most people I work with feel like this before they come:
Like you've tried many things but never see or feel a real change long term.
Low energy and feel sluggish.
Low confidence or belief in yourself.
Know the physical things to do, but now want to bring your health, fitness, energy & happiness to the best it can be.
Lack motivation and struggle to eat and move well because of this.
Feel unhealthy and unfit and the negative emotions that brings.
By working with me, together we will bring you to a place that you never imagined. A place where you will feel energized, healthy, fit, confident, drive, calm, relaxed and much more.
Through my coaching, You will feel empowered to manage your own health, fitness and vitality. Through the latest and best research, I will show you what actually works and find a routine that you fall in love with. By moving and transforming energy through the body you can live feeling at your very best.
This is not a program where you change for a while,
BUT CHANGE FOR THE REST OF YOUR LIFE
My approach?
My approach is bridging these main elements together.
I aim to do this with you through powerful 1-1 coaching sessions, physical coaching sessions and also within my group sessions, with other like-minded people. Who have or had the same struggles and are/have changed their own health, fitness and energy to live to the fullest.
I believe there is a lot of seriousness in life at the moment, I can assure you in each session we will have a bit of fun, laughter, knowledge, inspiration so you can feel relaxed and have some craic, and of course work towards the best version of yourself.
Robert
Financial Advisor
I can't recommend Dan enough. His routines are challenging and varied, he works to your ability. The results have been very positive.  A great guy, who is excellent at what he does. Recommend to anyone who wants to work on bettering themselves.
If you are still feeling unsure, watch and listen to Claudia's story who felt lazy, sluggish, unconfident. Before this Claudia always put energy into trying to change but never felt or seen a real difference long term. Claudia then came to me and CHANGED HER LIFE 'I now feel confident and a totally different woman'.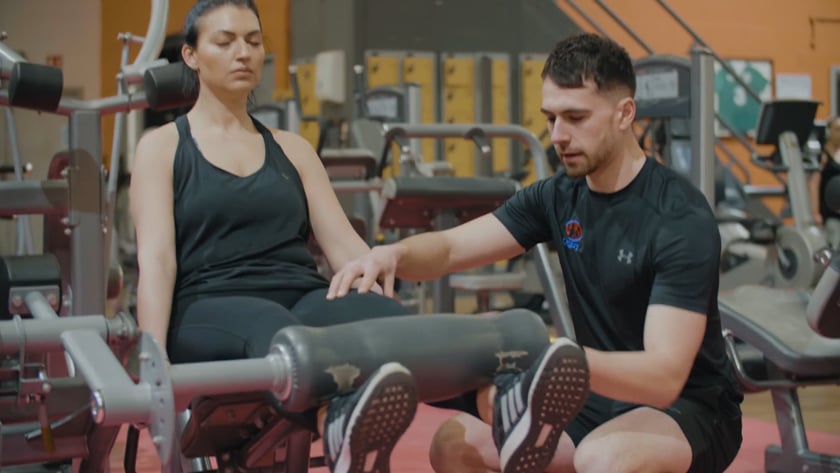 Sarah Curran
Business Owner
'Absolutely brilliant – I'd recommend getting in touch with Dan to anyone, at any stage of where you are at. Only a few weeks under my belt and I've already been given such a good foundation of knowledge! No bleak plan given or miserable hours spent in the gym – it's all fun and games. 50% fun and games/50% sweating buckets and sore legs'
Aidan
Multiple Award Winning Restaurant Owner
'I have been working with Dan over the last few years and he is amazing at what he does. Before I have worked with previous coaches and might have felt change and better for a while but that never lasted. Running my own restaurant business, I found highly stressful, upon working with Dan he really made me grow and think bigger and differently and how I can be in complete control of everything. I really enjoy a better, fitter and healthier life now and could not recommend Dan any more.'
As I'm sure you aware of now my approach may be quite different to what you have experienced maybe before. And I feel this is how we can truly change how you think, how you feel, how you look, and ultimately change your life.
It is my passion to help people do this, and I would love to help you now too.
START FILLING OUT ALL INFO BELOW & I WILL BE IN TOUCH WITH YOU SOON.
Many Thanks Dan.